In my blog post last week, I explored the impacts of providing teletherapy (speech and language supports/service) to children living in rural or remote communities. Overall, the research stated that by providing this type of service, it helps to decrease inequitable service provision to students based on geography. This week, I was curious to explore the perspectives of clinicians (speech and language pathologists, SLPs) with the implementation of teletherapy.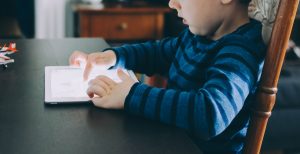 Photo by Kelly Sikkema on Unsplash
The article I found by Hines et al. (2015), provided insights through a qualitative study that interviewed 15 SLPs in regards to the factors that they felt promoted acceptability in transitioning to teletherapy (tele practice). Prior to their transition to teletherapy, the SLPs stated that they had mixed feelings about the practice. Concerns from the SLPs consisted of, inadequate technology or infrastructure, lack of adequate training for teletherapy, and questions about the standards of professional standards for telehealth (Hines et al., 2015). However, the study stated that once the SLPs began their journey with teletherapy, that these professionals' attitudes and comfort with the service provision improved. Furthermore, these SLPs shared that there were four contributing factors that promoted acceptance and efficiency with the teletherapy. The clinicians felt that relationship building with the student wasn't impeded, working and collaboration with parents and teachers was possible and directly impacted the quality of the teletherapy, the technology used was adequate to support the teletherapy, and there was sufficient training to support clinician learning with the use of the teletherapy platform (Hines et al., 2015).
Mentioned throughout the study by Hines et al. (2015), was the importance and positive impact of a therapy assistant (TA). The TA was stated as crucial in supporting the teletherapy by keeping the student engaged, supporting behaviour management, connecting the SLP with teachers and families, and support development of ongoing therapy practice (in addition to the teletherapy sessions with the SLP) (Hines et al., 2015). Most importantly, Hines et al. (2015), stated that it is imperative that TAs understand their role and are trained in technology and speech and language techniques.
Reflecting on my experience with teletherapy for speech and language, I agree with the factors that were articulated in the study by Hines et al. (2015), primarily with the role of the TA. My first year piloting a teletherapy for SLP, it was very evident the importance of this role. Thankfully, I had some experience with speech and language and was comfortable with the platform and use of technology. This year, and in other sites in my school district, there are individuals filling the roles of TA that do not share that same comfort level or experience. Therefore, I wonder about the amount of impact it may have on effective service provision by having a TA who does not yet have the skills to support this type of therapy. I think that a challenge with having experienced TAs is similar to the challenge of having face-to-face SLPs available to provide service, there often aren't specialists in remote or rural areas, or if there are, typically the demand for service is greater than what is available. However, I do believe that exposure and collaboration with the SLP through teletherapy is supportive in helping TAs gain skills to support speech and language development for students. Moving forwards, I am hoping to uncover research that highlights an educator's perspective of teletherapy to compare and contrast to these perspectives highlighted by clinicians in the Hines et al. (2015) study.
In addition to research into my inquiry topic of teletherapy for this course, I have also been exploring a variety of apps to use with my multi-aged class. I am always eager to learn about new learning centres or activities that I can do with my students that support independent practice, which then also makes me available for intensive one-on-one work with other students. Last week, a member of my learning pod posted on their blog about an app called LetterSchool to promote fine motor development, with ties to alphabet recognition. I contacted the IT department for my district and received an e-mail today stating that the FREE trial version has been added to our Student Services module (which is where we access all Apps for our district), so I am looking forward to trying it with my students this week! Thankful to be learning with others in my cohort who can share their experiences and introduce me to new opportunities to share with my students!
References:
Hines, M., Lincoln, M., Ramsden, R., Martinovich, J., & Fairweather, C. (2015). Speech pathologists' perspectives on transitioning to telepractice: What factors promote acceptance? Journal of Telemedicine and Telecare, 21(8), 469-473.