This week, I learned about several new models, frameworks, and theories in relation to education, multimedia instruction, and digital technology. Some of the material that was discussed in the readings this week encouraged reflection into my own practice and sparked some questioning and deeper critical thinking. These questions and curiosities are largely centred around how some aspects of these readings connect with my context and my philosophies as an educator.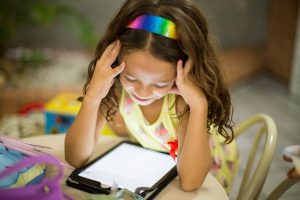 Photo by Patricia Prudente on Unsplash
I enjoyed watching the Youtube video What is the TPACK Model?, which I thought did a great job of highlighting the 3 domains that integrate to support your [educator's] understanding of how technological tools can enhance your teaching and how you can support student learning more deeply and effectively. I appreciated how the video provided exemplars of each of the domains and illustrated how they connect to support teaching and learning. While watching the video, it became very clear that I personally am less comfortable and confident with my Technological Knowledge domain, which then impacts my overall ability as an educator to combine all 3 domains. In particular, I would say that I am challenged with my knowledge about the use of the tools and how to find quality content (e.g. Apps) to integrate into my practice in a meaningful way. However, I think that by sharing our experiences with technology in our classrooms (and Apps that work well!), that it will support our growth and confidence with using technology.
In comparison, reading the article about the SAMR Model by Hamilton, Rosenberg, and Akcaoglu (2016), it was interesting to think about the use of technology in a more hierarchical model. I agree with the statement made by the researchers, that the intention of integrating technology should be focused on how it may enhance or support student learning, not that better technology automatically leads to better results in student achievement. In addition, the researchers (2016) also stated that the effects of technology use are greatly determined by how teachers and students are using it, as well as the task it is being used for. Therefore, I agree that technology should be used intentionally in order to support teaching and learning in meaningful ways, not solely because it is available or because you have the technological knowledge to use various devices.
Finally, I found the article by Mayer (2017) to be interesting and thought provoking. I thought that the article provided strong exemplars of how various multimedia principles demonstrate how individuals learn best when engaging with e-learning, or computer-based multimedia instruction. However, when I first read this article, I had a hard time finding the connection between the reading and how it relates to my practice. In my primary classroom, most of our learning is face-to-face (educator and students) and is play, nature, and project-based learning, with meaningful use of technology (e.g. Skype with our sister school, BookCreator app, iPad camera to document learning, etc.). However, sometimes we use videos to supplement in-class learning (e.g. watching a solar system video), so I can see how understanding these principles can help me to select quality multimedia resources for these purposes.
One other example where I currently use e-learning in my classroom is through our work with a Speech and Language Pathologist. Unfortunately, we do not have a SLP that can visit our school in person, so we use a service called Tiny Eye to provide speech and language service to some of our students. Each student meets with the SLP one-on-one (with either myself or the EA present) in a video chat. Through this program, the SLP supports each student's needs with articulation, syntax, or language and communication skills by using visual and auditory processes (e.g. visual representation for the correct mouth formation for /s/ along with the auditory narration for /s/). However, one element of this e-learning that I have witnessed as being beneficial for my students is also a kinaesthetic approach to learning (e.g. by moving their own mouth to make the correct formation to make the correct letter sound). I understand that many people can learn through visual and auditory processes, however, I am cautious to over-generalize by stating that "people learn better from words and pictures" (Mayer, 2017, p. 404). As part of my practice and philosophy, I integrate UDL principles into my teaching and how I support student learning and differentiated learning to meet the needs of all my students. Therefore, I wonder how different aspects of learning connect with dual-channels principle (dual-coding theory).
References:
Hamilton, E. R., Rosenberg, J. M., & Akcaoglu, M. (2016). The Substitution Augmentation Modification Redefinition (SAMR) Model: A Critical Review and Suggestions for its Use. TechTrends, 60(5), 433–441.
Mayer, R. E. (2017). Using multimedia for e‐learning. Journal of Computer Assisted Learning, 33(5), 403-423.